Présentation Grandes Marches // Présentation High Wire Walks
LES GRANDES MARCHES - The High Wire Walks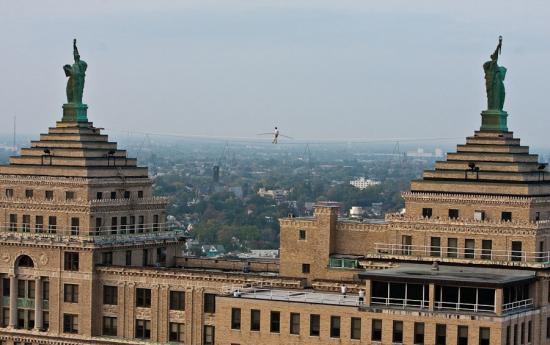 Depuis sa création, Altitude réalise des grandes prestations de funambule en collaboration avec des metteurs en scène et des concepteurs d'événements.
Ces "Marches" à très grande hauteur entre des buildings ou cathédrales, entre des tours ou au-dessus d'un fleuve, sont l'occasion d'un instant magique, en suspension, qui ne nous font plus jamais voir les lieux où elles s'inscrivent comme avant.
Since its creation, Altitude has produced great high wire walking performances in collaboration with directors and events designers. These very high walks between buildings or cathedrals, between towers or over a river, offer a magic moment, in suspension, so that we will never look at these sights the same again.
Les principales traversées // Main high wire walks:
2010, Niagara Falls (USA), contemporary art festival "Beyond / In Western New York"
2010, Buffalo (USA), contemporary art festival "Beyond / In Western New York"
2010, Turnhout (Belgium), opening of the new cultural season "Opennings Feest"
2010, Phalsbourg (France), "International Theatre Festival"
2010, Sotteville-lès-Rouen (France), Atelier 231 – national street art centre, festival "Fish&Chips"
2009, Rotterdam (Netherlands), Festival "Rotterdam Circusstad – Rotterdam City of Circus"
2008, Le Mans (France), festival "Le Mans Fait Son Cirque"
2008, Séoul (South Korea), above the Han River (1 kilometer)
2007, Vilnius (Lithuania), festival "Miraklis"
2007, Glasgow (Scotland), Catherine Yass' project "High Wire"
2006, Bourg-en-Bresse (France), 500e anniversary of the Royal Monastery of Brou, with poetry readings
2006, Paris (France), Hôtel de Sully, the "Patrimony Days", with poetry readings
2006, Rebenacq (France)
2006, Champs-sur-Marne (France), over the Castel, National Theatre La Ferme du Buisson
2006, Valencia (Spain), Inauguration of the Commercial Centre "L' ACQUA"
2006, Nyon (Switzerland), Inauguration of the Castel
2006, Grenoble (France), Inauguration of the new tramway
2005, Paris, Stade de France (France Stadium), show "Jules Verne"
2005, Tunis (Tunisia), Carthage Theatre Festival, over the Bourguiba Avenue
2005, Rome (Italia), "White Night"
2005, La Charité-sur-Loire (France), with poetry readings
2005, Toulouse (France) with poetry readings by Robin Renucci
2004, Charleville-Mézières (France), the "Arthur Rimbaud Year", with poetry readings
2004, Picardie (France), over the river Somme
2003, Göteborg (Sweden), crossing the Ullevi Stadium
2001, Cherbourg (France), over the Theatre for the opening of the new cultural season
2001, Copenhagen (Denmark), "International Theatre Festival"
2001, Saran (France), "Festival de la Tête Noire"
2001, Barcelone, Inauguration of the Maquinista
2000, Tokyo (Japan), tour with the company Mugon Geki
1999, Villiers-sur-Mer (France), walk over the Prime Meridian for the new year
1997, London (England), Guinness Book of Records for a walk with 2 high wire walkers over The Thames
1991, Wembley (England), walk over the Olympic Stadium
1990, Caen (France), Walk for Hope
1990, Glastonbury (England), "Glastonbury Festival"
1989, L'Epine (France), between the 2 towers of the Basilica
Copenhague (Danemark) - Copenhagen (Denmark)

"International Theatre festival"

Buffalo (New-York - USA)

Contemporary Art Festival "Beyond / In Western New York 2010"

 

 

 Vilnius (Lituanie - Lithuania)

"Festival Miraklis" avec le Centre culturel français

 

Turnhout (Belgique - Belgium)

"Opennings Feest" - Ouverture de la saison culturelle du centre culturel de Warande

 

Niagara Falls (New York - USA)

Contemporary Art Festival "Beyond / In Western New York 2010"

 

Le Mans (France)

Festival "Le Mans fait son cirque"

 

Sotteville-lès-Rouen, centre national des arts de la rue

"Festival Fish & Chips" 

Rotterdam (Netherlands)

Festival Rotterdam Circusstad